FREE read & a party! Whoo!
: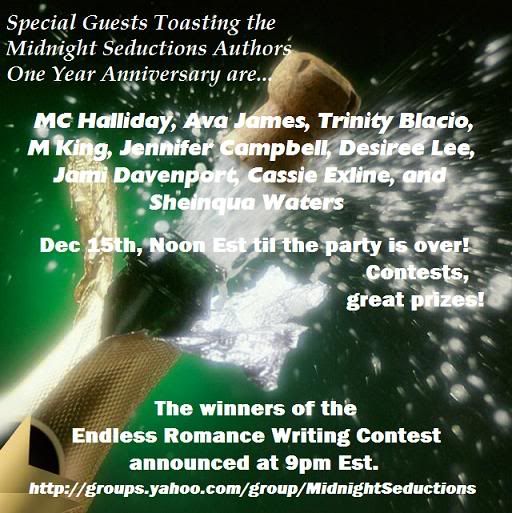 Yes, it's the Midnight Seductions Authors One Year Anniversary Bash! From Noon EST on December 15th, burning down the house 'til the party's over ;-)
I am going to be a special guest (oooh!), along with the likes of Cassie Exline, Ava James, Trinity Blacio and Desiree Lee, partying alongside the MSA crew including, as ever, Adrianne Brennan, AJ Llewellyn, Savannah Chase, Beth Wylde, Kissa Starling and Tess MacKall, among many others. So stop by, because the place is going to be bursting with chat, contests, prizes and more....including the midnight announcement of the MSA ERC winners!
Additionally, Night Shift: Part One is available NOW for free download! Whee!
http://www.wildchildpublishing.com/index.php?main_page=product_info&cPath=84&products_id=267
Current Mood:
crazy
Current Music: Marc Bolan - Get It On Blues
Tags:
christmas
,
event
,
free pdf
,
free reads
,
msa erc
,
night shift
,
party
,
wild child publishing